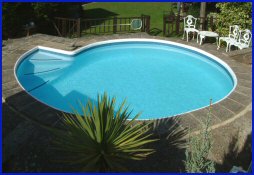 Welcome to Martin Stone fibreglass swimming pool lining specialist and fibreglass swimming pool repair contractor.
We are specialists in fibreglass lining swimming pools and other applications that require a high specification structural watertight finish, we particularly specialise in the fibreglass lining of swimming pools where the paint or tile finish has failed or badly weathered, or where the pool is leaking
We offer a Swimming pool fibreglass lining and repair service to the trade, local councils, schools and private customers; we have many years of experience and we can provide our service across all parts of the Uk and Europe.
A cost effective alternative to a vinyl liner
As an alternative to a vinyl liner ,drop in or on site vinyl swimming pool lining, our product is bonded to the pool ,this prevents slippage and wrinkles forming, a common problem with vinyl, in addition our product is seamless, whereas vinyl swimming pool linings are welded together producing ugly seams at every contour of the pool and potential leak points ours is a one piece application, our product is guaranteed to stop leaks in swimming pools with a 100% success rate. particularly tiled or mosaiced pools ,where no visible leak points can be found
What is it made of ?
Its a structural lining that moulds itself to the shape of your pool, it is composed of a combined glass fibre compound and plastic resin that when set hard will bridge cracks, seal joints and bodged repairs, making a watertight structurally strengthened chemical resistant ceramic like finish to any application requiring a high standard fibreglass reinforced finish.
Only a fibreglass swimming pool lining is structurally reinforced with a strong glass strand mesh, and will resist cracking ,paint, epoxy coatings, spray on plaster based finishes are not structurally strengthened and will eventually crack with the thermal expansion/contraction effects of a heated pool.
All our outdoor work is done under a temporary cover ensuring a clean and dry environment to ensure materials are properly cured and not degraded by exposure to the elements during the work.
Covering also ensures a fixed start to finish programme unhindered by weather.
Fibreglass will last for decades, modern GRP materials are made with tough conditions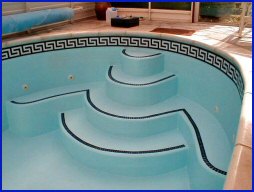 in mind, such as boat hulls and acid tanks, when its applied to an integrally strong structure such as a swimming pool it will last as long as the structure does, even enhancing the strength of the structure, a swimming pool fibreglass lining cannot be easily torn or ripped or punctured, Modern finishing flow coats will last well in excess of 15 years , if after all this time your pool requires a fresh coat to make it look like new again this can be carried out at a fraction of the cost of a new lining, or costly replacement of an onsite vinyl welded system.
We are extremely particular about our standard of workmanship, we are an artisan company, specialising in providing swimming pool linings of a high standard, we do not contract out and Martin undertakes all work himself to ensure it is done to the highest standard , with over 20 years of experience,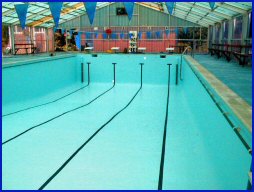 Isn't it risky to drain my pool ?
Groundwater can cause major problems on site seeping back into an empty pool, preventing work from progressing, just prolonged emptying can be risky under certain conditions, to address this we have groundwater control equipment to deal with this to minimise risk , prevent delays, and ensure a problem free customer experience with minimum risk to your pool in high water table conditions
We use the highest specification materials, particularly the finishing coats . These are imported and made especially for swimming pool finishes , normal off the shelf flow coats are not up to spec in a pool environment and can quickly discolour or develop stains , we have many years of trial and have the knowledge of the best types of materials to use.
An average domestic pool can be completed within a week.
Each pool can be individually finished with one of our unique mosaic designs, giving it a finishing touch that will enhance the look and have the benefit of hiding the "tide mark" on the pool at surface level from sun tan oils and dirt that can occur after heavy use.
These mosaics are exclusive to us and are printed onto a tissue and are laminated to the pool during the lining process, once cured they are smooth and easy to wipe clean.
Our new Luxor range laser printed highly detailed mosaic imitates ceramic and stone finishes with realistic results
Floor and step motifs are also available
We also have a service where we undertake repairs to fibreglass swimming pools, pre moulded pools or damaged swimming pool fibreglass linings.
Please go to our gallery to see examples of finished pools, or our process page to find out more about the lining process.